7 Ideas for Your Next Social Media Marketing Campaign
Do you run out of ideas about what to post on social media? While here are few ideas that you can use to create posts about your company/product.
Why 7 Ideas and not 10?
Well, I wished to show a unique idea for each day of the week. So I decided to write about 7 ideas. That said, there are more than 100's of ideas that you can use to create a post. But it's better to start with basics before moving on to others.
To help you get the whole essence of the blog post, I created a graphic as well. So in case you just wish to go through it quickly, you can just refer the graphic and move on. However, I recommend you to go through the whole post, as you might get a bit of little bit of additional knowledge that might help you set up your social media campaign better.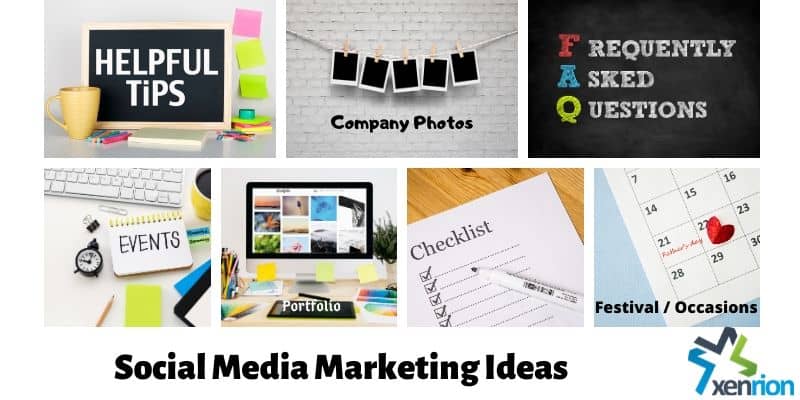 Ideas for Social Media Marketing Campaign
Helpful Tips: Users are always looking for tips to improve their business/life. If you are in a service business you can provide tips on how they can solve the issues related to or around the services you provide.  If you have created a product, tips on how to use to your product effectively, get more value from your product, etc.
Company Photos: You can connect with your clients/customers on a more personal level by sharing photos of the company, people working behind the scenes.
Frequently Ask Questions: Create a set of questions that are asked frequently about your product. You can use social media to answer these questions .
Events: Share updates about various events that took place in your company. Share updates of various events in which you have participated. It can be events that you organized for your customers / prospective clients.
Portfolio: Sharing social media posts related to various work you have carried out for your clients or your product portfolio.
Checklist: Checklist is my favorite form of social media post. You can create checklist about Using Your Products, Checklist on services you provide.
Festivals / Occasions: Create a social media post pertaining to various holidays / special days and occasion can be one another way to connect with your audience.
We at Xenrion provide Social Media Marketing Services to various companies , professionals. In case you are interested in our social media marketing services, do contact us.